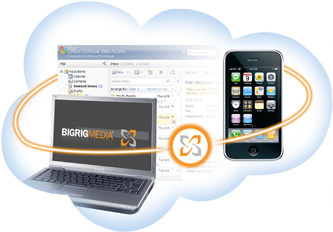 You may have heard of cloud computing but be uncertain as to what it exactly means. We have provided some information below:
The word "cloud" in cloud computing means the internet. So, the full term simply means computing via the internet. You are not restricted to a server in your office. 
An example of this is the Microsoft Exchange email service offered by Big Rig Media. The advantage is that you can access email anytime and anywhere. You will never run out of space and it will not go down. In addition, the email is designed for people on the go with multiple computers and smart phone devices. Your Inbox, Calendar, Contacts access it anywhere anytime and from any device!
Below are two other acronyms associated with cloud computing: 
SaaS (Software as a Service): Instead of receiving a disc in the mail or downloading software, you just sign up and use the application on the internet. Examples of this are online QuickBooks online, TurboTax.com and Salesforce.com. 
IaaS (Infrastructure as a Service): This is also known as cloud hosting, grid hosting and platform as a service. This means that all of your computer infrastructure (servers and datacenters) is established on the internet. The advantage is that it can be scaled on demand so that you only pay for what you use.
Cloud computing is cost effective, scalable and reliable. Call us at (866) 524-4744 today to discover how you can integrate your business operations with a cloud, today.