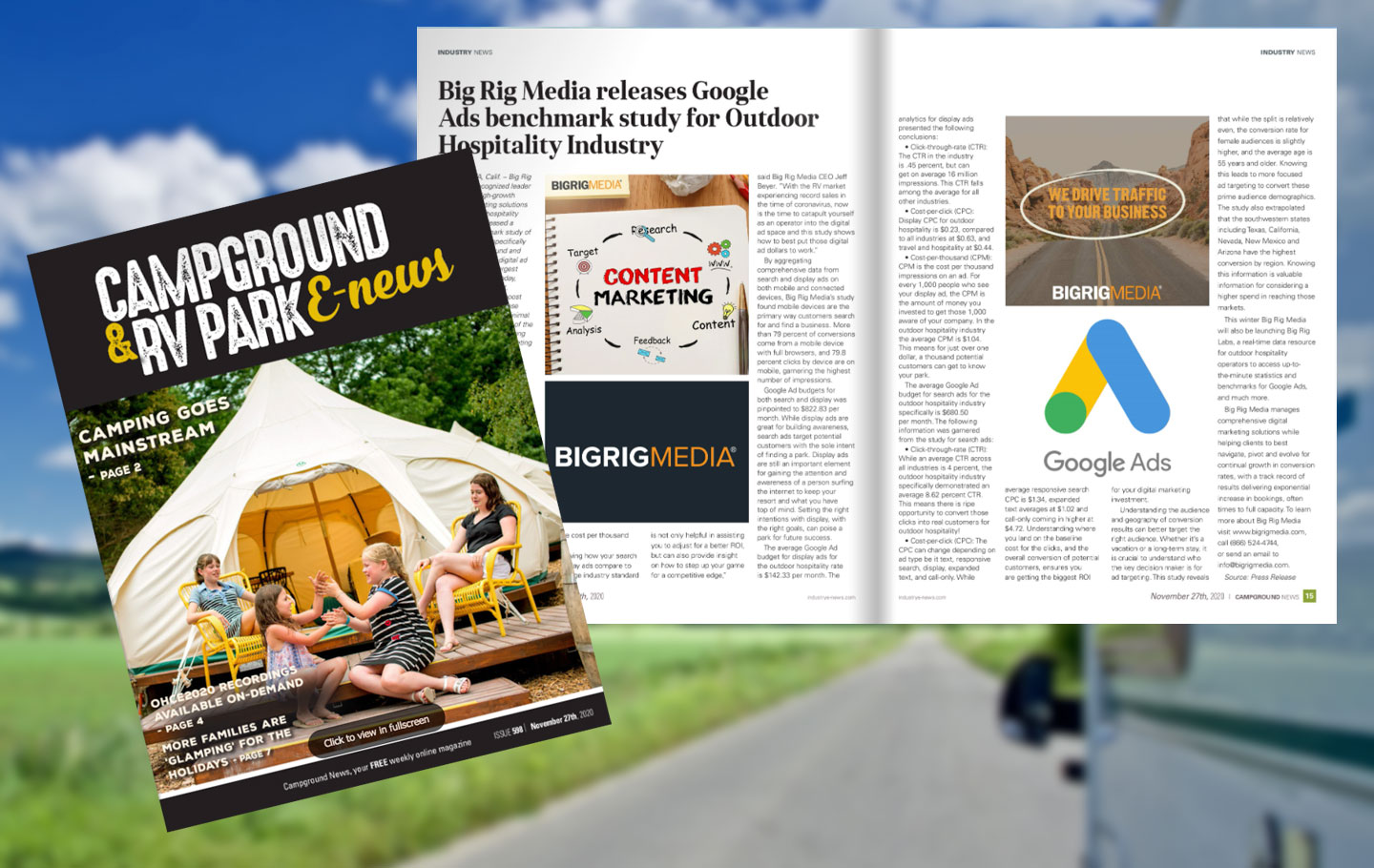 LA QUINTA, Calif. – Big Rig Media, the recognized leader in providing high-growth modern marketing solutions to the outdoor hospitality industry, has released a first-ever benchmark study of Google Ads that specifically analyzes campground and RV park operators' digital ad strategies. As the largest online ad platform today, Google Ads is a must, having the power to boost conversions and increase ROI with a relatively minimal investment. The results of the study can assist in planning more precise 2021 marketing initiatives. – Campground and RV Park Industry E-News Campground Issue 598
Park operators now have industry-specific benchmark information compiled by Big Rig Media, never before available, providing a platform for comparing apples-to-apples on how other industry players are using Google Ads. This information can enable operators to spend their digital ad dollars more wisely and effectively, and determine if they are investing enough money in the power of digital marketing and advertising to get a substantial return.
The benchmarks include search and display click- through-rates (CTR) and cost-per-clicks (CPC), average search and display budgets, conversions by device including gender and age, and average cost per thousand (CPM).
"Knowing how your search and display ads compare to the average industry standard is not only helpful in assisting you to adjust for a better ROI, but can also provide insight on how to step up your game for a competitive edge," said Big Rig Media CEO Jeff Beyer. "With the RV market experiencing record sales in the time of coronavirus, now is the time to catapult yourself as an operator into the digital ad space and this study shows how to best put those digital ad dollars to work."

By aggregating comprehensive data from search and display ads on both mobile and connected devices, Big Rig Media's study found mobile devices are the primary way customers search for and find a business. More than 79 percent of conversions come from a mobile device with full browsers, and 79.8 percent clicks by device are on mobile, garnering the highest number of impressions.

Google Ad budgets for both search and display was pinpointed to $822.83 per month. While display ads are great for building awareness, search ads target potential customers with the sole intent of finding a park. Display ads are still an important element for gaining the attention and awareness of a person surfing the internet to keep your resort and what you have top of mind. Setting the right intentions with display, with the right goals, can poise a park for future success.

The average Google Ad budget for display ads for the outdoor hospitality rate is $142.33 per month. The analytics for display ads presented the following conclusions:

Click-through-rate (CTR): The CTR in the industry is .45 percent, but can get on average 16 million impressions. This CTR falls among the average for all other industries.
Cost-per-click (CPC): Display CPC for outdoor hospitality is $0.23, compared to all industries at $0.63, and travel and hospitality at $0.44.
Cost-per-thousand (CPM): CPM is the cost per thousand impressions on an ad. For every 1,000 people who see your display ad, the CPM is the amount of money you invested to get those 1,000 aware of your company. In the outdoor hospitality industry the average CPM is $1.04. This means for just over one dollar, a thousand potential customers can get to know your park.

The average Google Ad budget for search ads for the outdoor hospitality industry specifically is $680.50
per month. The following information was garnered from the study for search ads:

Click-through-rate (CTR): While an average CTR across all industries is 4 percent, the outdoor hospitality industry specifically demonstrated an average 8.62 percent CTR. This means there is ripe opportunity to convert those clicks into real customers for outdoor hospitality!
Cost-per-click (CPC): The CPC can change depending on ad type be it text, responsive search, display, expanded text, and call-only. While average responsive search CPC is $1.34, expanded text averages at $1.02 and call-only coming in higher at $4.72. Understanding where you land on the baseline cost for the clicks, and the overall conversion of potential customers, ensures you are getting the biggest ROI for your digital marketing investment.

Understanding the audience and geography of conversion results can better target the right audience. Whether it's a vacation or a long-term stay, it is crucial to understand who the key decision maker is for ad targeting. This study reveals that while the split is relatively even, the conversion rate for female audiences is slightly higher, and the average age is 55 years and older. Knowing this leads to more focused ad targeting to convert these prime audience demographics. The study also extrapolated that the southwestern states including Texas, California, Nevada, New Mexico and Arizona have the highest conversion by region. Knowing this information is valuable information for considering a higher spend in reaching those markets.

This winter Big Rig Media will also be launching Big Rig Labs, a real-time data resource for outdoor hospitality operators to access up-to- the-minute statistics and benchmarks for Google Ads, and much more.

Big Rig Media manages comprehensive digital marketing solutions while helping clients to best navigate, pivot and evolve for continual growth in conversion rates, with a track record of results delivering exponential increase in bookings, often times to full capacity. To learn more about Big Rig Media visit www.bigrigmedia.com, call (866) 524-4744, or send an email to info@bigrigmedia.com.