Jeff Beyer, Big Rig Media CEO, took some time out at the end of April to attend ICON17, (from Infusionsoft), a conference dedicated solely to business growth, marketing, and networking. Held from April 25 to April 27, 2017, Jeff joined fellow entrepreneurs and marketers in Phoenix, Arizona, for the learning experience.
The conference produced more than 50 sessions designed to help growth-oriented people make an impact. Jeff attended several presentations gaining valuable information, especially from Wednesday night's Keynote with Clate Mask, Marcus Lemonis and Scott Martineau.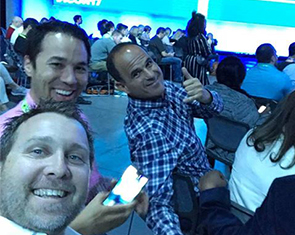 Jeff even got a pic taken with Marcus (see right), a serial entrepreneur and host of CNBC's The Profit, who has invested nearly $50 million dollars in different companies! He also attended the Content Marketing Strategy Lab where he picked up some valuable tips to enhance Big Rig Media's impressive suite of internet marketing services offered to their valued clients.
The ICON annual event always sets an environment where no matter how much business people think they know, they always walk away from this conference with more knowledge… and that's what it's all about!