It's that time of year again when many of us make our list of New Year Resolutions. Some we stick to, many we don't – but these Six New Year's Marketing Resolutions are essential. Looking at a New Year often leads to thinking about how you can increase the number of guests you can attract. Every year brings potential new ideas and strategies. While many traditional methods still work, it is important to stay on top of emerging trends. You also need to create plans that are effective for your individual property.
Here are six resolutions you should include in your 2019 RV Park, Resort, Campground or Marina marketing plan: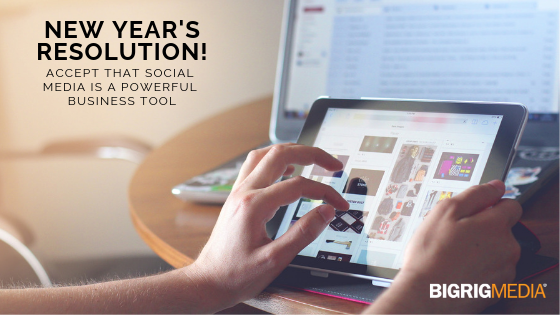 RESOLUTION #1:
ACCEPT THAT SOCIAL MEDIA IS MORE THAN JUST FOR SOCIALIZING
Social Media has long been used for the hospitality industry to attract guests. Facebook alone has more than two billion monthly users. Transactions on the platform are always increasing with more than 50 million small business pages currently active. Twitter and Instagram are similarly popular and even sites WhatsApp and Dating sites are seeing business advertisements. Social sites are where your guests are most active so it makes sense that you should be as well. It also allows you some creative freedom to capture attention.
The latest: Video Content has emerged at the top for engagement recently and is a great tool to build brand awareness. It can be used for strong marketing messages – potentially driving direct bookings. Video can reach a lot further organically with 76% of social media users saying they would share a video if it was entertaining.
Need social media help?
We are one click away!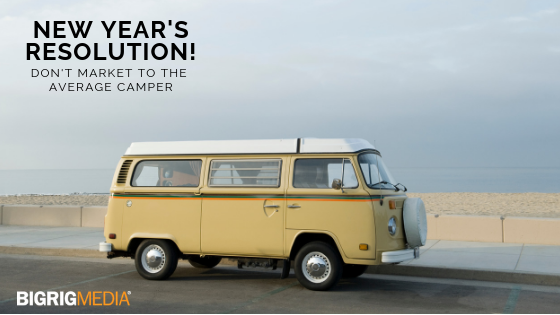 RESOLUTION #2:
DON'T MARKET TO THE "AVERAGE CAMPER"
The path to booking is so complex it's impossible to use a blanket approach to successfully attract the guests you want at your property. The places guests can go to make a booking online have multiplied significantly in recent years. Your ability to compete depends on your willingness to be as visible as possible and using available technology to help
The latest: Sites like RV Parky, Book Your Site, Dockwa and Reserve America have been around for a while, but did you know that sites that are typically for hotels like Booking.com are also coming on board for RV sites? We can most likely expect (and we are actively watching for) other online travel sites like Kayak.com and Travelocity to join in. We also expect sites such as AirBNB and VRBO – who already list privately owned spots and RV/Boat camping experiences – to be part of the trend as well.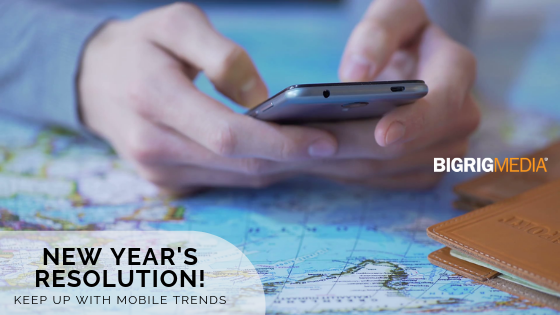 RESOLUTION #3:
KEEP UP WITH MOBILE TRENDS
There's nothing new in saying Mobile is now one of the strongest marketplaces when it comes to booking travel – but RVers in particular are mobile. People these days also have less time to sit at home and research, so whether it's via mobile browsing or on an app, they love to use their smartphone to find deals and make travel plans.
The latest: According to Google, 53% of smartphone owners use them for travel-related activities; therefore, mobile presence and mobile website optimization is a necessity for your property.

RESOLUTION #4:
REMAIN FAITHFUL TO EMAIL MARKETING
Email marketing shouldn't be abandoned. It is still one of your best options for a good return on investment and two-thirds of consumers say they like hearing from businesses they like via email. We help each of our clients create robust email campaigns for a reason – we see great results. For examples of some great newsletter ideas
visit
our portfolio!
The latest: Research and practice shows that Email allows for direct contact, better targeting and a more in-depth approach to content. When used effectively (incentives, helpful and interesting news) guests will look forward to receiving your emails and engaging with you. Email also has analytics tools that allow you to improve your messaging over time by seeing what's working and what isn't.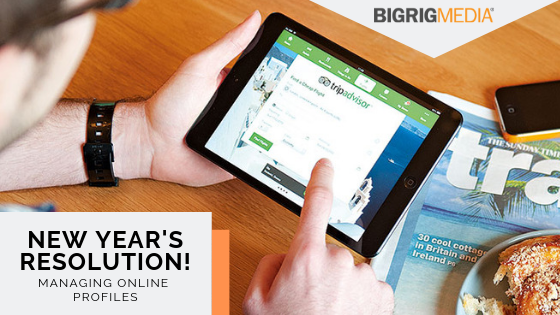 RESOLUTION #5:
STAY ON TOP OF YOUR ONLINE PROFILES
Recent data and research find that within the last few years, guests who are exclusively visiting online booking websites rose from 48% to 60%. Optimizing your profiles on these sites will not only assist in accepting more bookings but will also allow you to better promote the positive reviews you receive. Once you have reviews, it's important to respond to them. Make sure you are monitoring and responding not only the booking sites you are on, but Social Media, Yelp and TripAdvisor as well.
The latest: A whopping 80% of guests consider online reviews when they book and 85% of TripAdvisor users are impressed by a thoughtful response to a bad review. Part of every marketing campaign we do here at Big Rig Media includes making sure your property is listed, claimed and optimized on all the major travel and industry sites.

RESOLUTION #6:
UPDATE YOUR DIGITAL MARKETING STRATEGY
New technology and new products are always something you should stay on top of. Some factors you should take into account when developing digital marketing plans are:
Search engine optimization (SEO) and content.
Website traffic
Social media
Pay per click (PPC) campaigns
Performance and measurement
New action plans
As you head into the New Year, the questions you should always be asking yourself are:
Who is staying in at my property?
Why are they staying?
Where are they coming from?
If you know these answers, your job in guest relations and increasing bookings becomes a lot easier. However, we also know from working with our amazing professional outdoor hospitality clients for a long time, finding the time to dedicate to manage marketing consistently and effectively can be a major challenge. Managing a property – especially one that has specialized handling needs like RV and Boat guests require is a huge job 24/7.