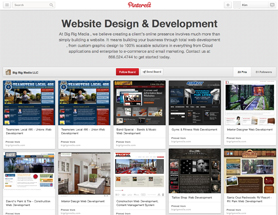 Have you heard about Pinterest? Using it may help your business. Pinterest allows users to create an online wall where they can attach things that interest them. Here are some tips about Pinterest for businesses:
Set up a board that will speak to your customers. One where the pins will draw them in.
Show what inspires your products. Think about boards for the ideas, places people and even the moods that support your brand. For example, if you own an RV park, pin pictures of the beautiful grounds and scenic areas around your resort.
Once you begin growing your community, you can promote your Pinterest account and showcase the pins on your own site.

Pinterest might be a good place to showcase your business. It's worth checking out.