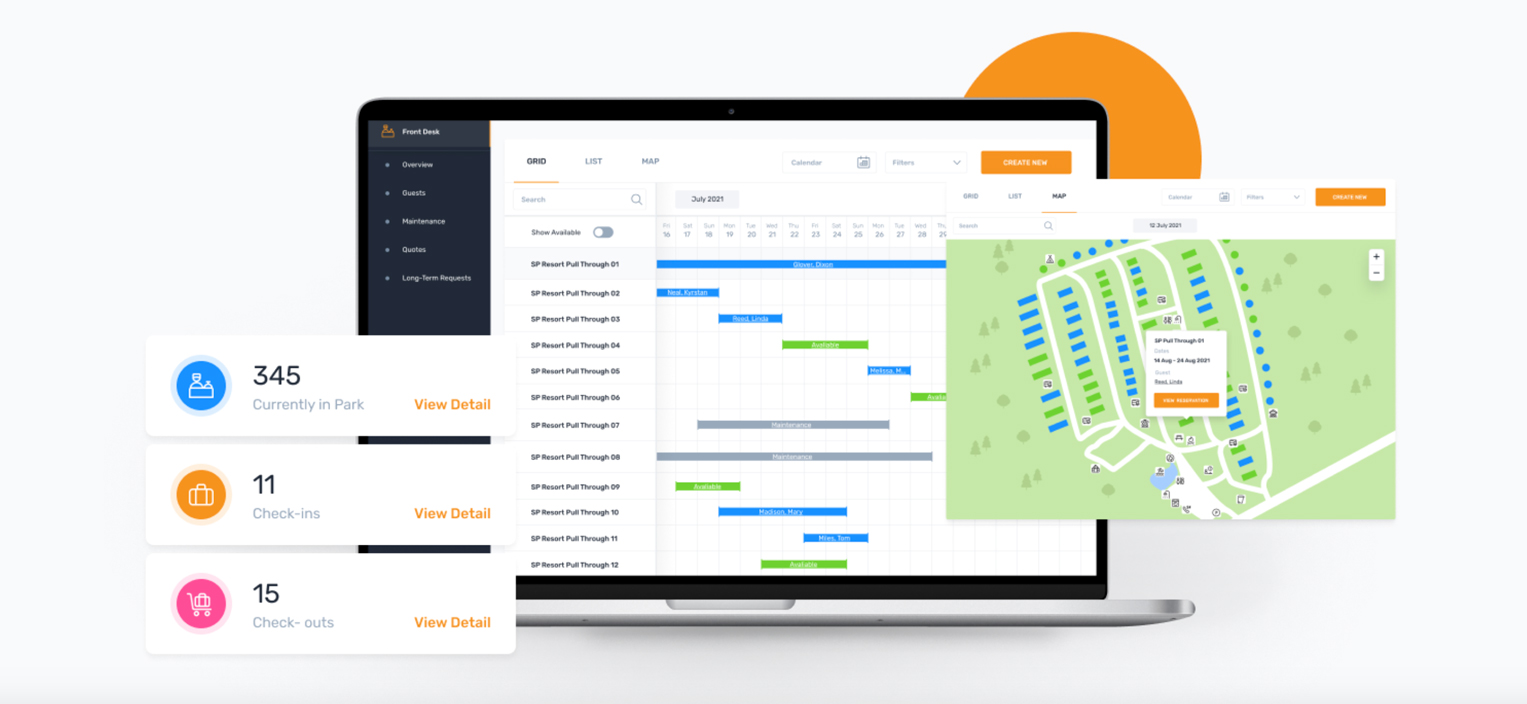 Running an RV park or campground is a challenging task, given the myriad of responsibilities involved – from reservations and guest management to maintenance tasks and financial tracking. Thankfully, RV park management software systems have revolutionized the industry, making these tasks more manageable and efficient. Let's delve into what these systems typically offer and why a customizable solution might be the best choice for your park.
What Does an RV Park Management Software System Offer?
Streamlined Operations: Most RV park software systems aim to streamline operations. They automate features such as online booking, park management, and inventory control to help reduce manual work, save time, and minimize errors.
Enhanced Guest Experience: Software systems often include integrated online booking engines, allowing guests to reserve their stay without the need to navigate away from your website. This convenience enhances the customer experience, driving repeat bookings and positive reviews.
Real-Time Data Access: Many software systems offer real-time business reports, allowing you to monitor and analyze your park's performance. This data can inform strategic decisions, helping you to optimize operations and maximize profitability.
While these advantages are significant, not all RV park management software systems are created equal. Some are more robust and feature-rich than others, and the most effective solutions are those that can be customized to meet your park's specific needs.
The Indio Advantage
Now, let's talk about Indio by Big Rig Media, an advanced RV park management software system that not only incorporates all of the features mentioned above but goes a step further by offering a 360-degree solution, powerfully guiding campers from inspiration to reservation-again and again.
Indio's stand-out features include:
Integrated Marketing Tools
Unlike many RV park management systems, Indio incorporates cutting-edge marketing tactics. From ad tracking to drip email campaigns, these features can help nurture your customer relationships and inspire return visits.
Powerful, Customizable Features
Indio provides a comprehensive suite of tools in one place:
Fully-integrated online booking engine
Cloud-based property management system
Point of Sale software
Customer relationship management software
Real-time business reports
Anywhere Access
With Indio, you can manage your park from anywhere at any time.
Multi-Property Management
Indio offers multi-park support for those managing more than one park.
And This is Just the Tip of the Iceberg
Indio has many more features and benefits designed to enhance your RV park management experience and empower your business growth.
Streamline, Boost, and Cultivate: The Power of Indio for RV Parks
In essence, Indio, launched by Big Rig Media, provides a comprehensive solution for RV parks and campgrounds across the United States and Canada. It cuts through the complexity, providing straightforward guidance that drives results.
Its powerful combination of a revolutionary park management system and integrated marketing tools makes it a standout choice for any RV park looking for a way to streamline operations, boost bookings, and cultivate lasting relationships with guests.
Remember, the key to choosing the right RV park management software system is to find one that fits your specific needs and can grow with your business. With its wide range of features, customizable options, and marketing prowess, Indio is a worthy contender to consider in your search.
See Indio in Action
---