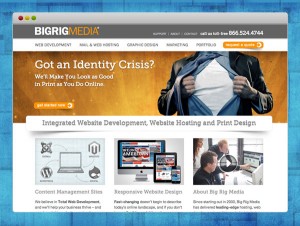 We've all heard the classic adage, "Out with the old, in with the new," right? Turns out this saying is pretty well suited to the internet as well, and especially when referring to the never-ending need to keep your look, design, and content exciting and, well, new.
As such, we decided to heed our own advice and take the scalpel (several scalpels, actually) to our own website, and what you see above is a sampling of the all-new and all-fresh BigRigMedia.com! We're very proud of the final result, and not just because of the cleaner, sleeker design and content flow. There's also new functionality, and more important, our roll-out of new offerings, from our all-new Rapid Development Website Packages (more on these exciting new products in a separate email, so stay tuned!) to greatly expanded print and integrated advertising capabilities and more comprehensive marketing services that can create and manage all your PPC, Email, and Social Media Marketing needs.
Check out our new look and let us know what you think on our Facebook Page — better yet, show us some love and Like Us if you haven't already!