Often, small to medium size business owners feel they must handle all aspects of internet marketing. However one thing that most entrepreneurs and managers realize is that if they do everything, mistakes will be made.
And not just small ones, but significant errors. The sheer energy and time needed to handle all aspects of marketing leads to burnout. The solution is to delegate.
Maybe not everything. What you outsource depends on your company objectives but to achieve a strong marketing ROI and stay sane while doing it, below are some tasks to consider outsourcing.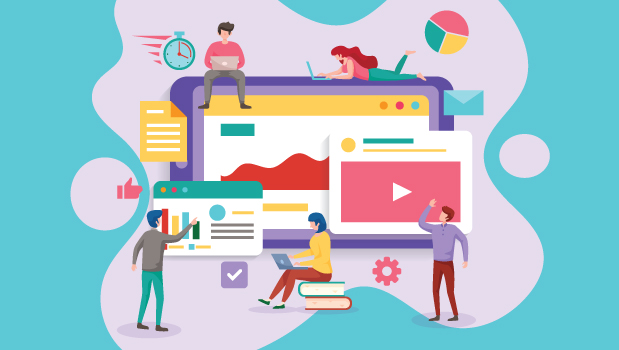 5 Tasks to Outsource for Success
Web Design and Development
Even if Big Rig Media was not a top flight web design firm since 2001, we would still recommend this as a likely outsourcing task. But as pros in this field, we know the multiple, sometimes complex, components of the website development life cycle such as discovery and research, design, development, population, launch, and maintenance, to work through to establish a successful website.
Not to mention the testing, approvals, and changes or the most overlooked aspect, staying current with emerging and constantly evolving technologies!
PPC Ads
Absent a Google Ads certified staff member or an employee with at least two years experience with PPCs, think about outsourcing this.
Social Media
Today's businesses need a presence on at least two social networks their customers frequent. This means developing content, posting it, interacting with accounts, replying to messages, handling any leads, as well as completing all of this within consistent timelines month after month.
Copywriting
It is seldom profitable to hire someone to write for you. Not only is it tough to find great writers, hiring one in-house adds expenses like office space, a fixed salary, taxes, insurance, and benefits. Writing for the web requires a completely different set of skills than print writing.
SEO and Blogs
You want a blog to two things: rank in search engines and help with a lead generation and conversion strategy. The times of stuffing keywords until the content became unreadable are gone. You need a good writer to use keywords right as well as put out informative and relevant content.
For an overall marketing strategy, using a consultant might be insightful. Fresh eyes can add a lot. However, in general, you want to keep the strategy inhouse and know it inside and out.
As suggested, a major reason to outsource is because professionals keep up with their fields. For example, there have been nine major updates to Google's algorithm in the last two years. How does that impact your internet marketing?