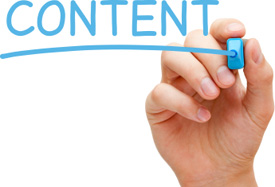 Recently, Forbes Magazine came out with a list of seven predictions regarding content marketing. Content marketing that is location based will generate significant ROI for brick and mortar businesses. They laid the foundation for this by defining just what content marketing is:
It focuses on the relationship not the hard sell.
A strategic content marketing approach includes blogs, guest blog posts, eBooks, email newsletters, podcasts, PowerPoint's, videos, social media, webinars and white papers.
If you're into content marketing you might want to consider what could occur in 2014 around this topic:
Content marketing will have earned a distinctive importance within organizations.
Companies will begin to clearly define content marketing and sales roles within their organizations.
Mobile content strategies will be increasingly important and will turn into winners those who invest in them as opposed to those who don't.
New SaaS (Software as a Service) approaches that calculate content marketing ROI will spring up.
Businesses will be looking to automate content marketing—a move which will not be successful since it will result in lower quality content.
Google + and Slideshare will be key players in content distribution