Golden Palms Luxury Motorcoach Resort, a brand new luxury Class A Motorcoach resort in Southwest Florida
THE CHALLENGE:
South Florida is well-known as one of the most competitive and high-standard markets for Class A luxury motorcoach resorts in the country. As a new resort, Golden Palms needed to bring their voice to the conversation and make their mark, ultimately generating qualified leads from interested buyers.

OUR SOLUTION:
We needed to build a marketing plan that communicated the luxury nature of the resort and got in front of the right people. We built:
A vibrant, conversion-built website that showcased the stunning visuals of the resort.
A strategic digital and print media campaign that included paid search, social media, email and trade media. All channels targeted Class A motorcoach owners throughout the Northeast, Midwest and Atlantic States.
Promo packages to claim a 3 day visit, experience the park and meet the owners.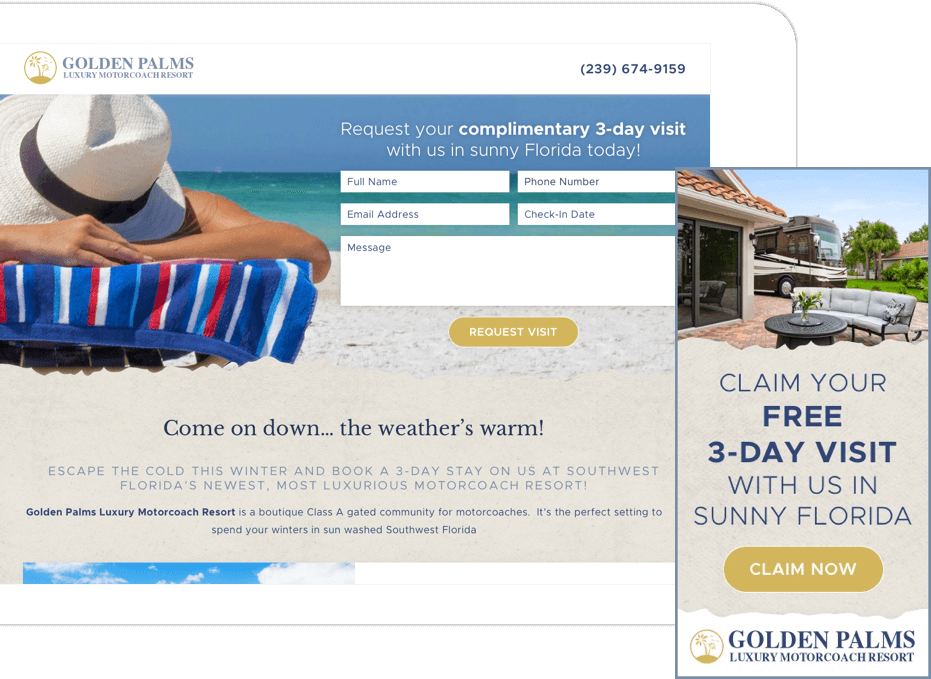 THE OUTCOME:
The launch and campaigns generated the required traffic to drive hundreds of leads. This resulted in 10% of the resort sold in the first 4 months.