Tips and Strategies to Achieve Your Goals
Are you ready to take your outdoor hospitality business to the next level? Crafting a winning marketing calendar for your RV park or resort is the perfect way to stay organized and maximize your ROI. From setting objectives to mapping out content, by following the tips and strategies outlined in this article, you can easily create a powerful marketing calendar that will help you stay on track and reach your goals.
What Is A Marketing Calendar?
A marketing calendar is a strategy that includes a variety of marketing efforts and serves as a guide for how and when you execute each strategy. When you create a marketing calendar, it allows you to think through all your efforts in advance and enables you to stay focused on your goals.
Your calendar can be as simple or as complex as you'd like. Some businesses get by with a simple spreadsheet. Others use complex digital tools that allow them to track everything from social media to email marketing efforts.
Marketing calendars can be used to plan out:
Outreach Efforts
Lead Generation Campaigns
Remarketing Efforts
And More!
Staying Organized With A Marketing Calendar
You want to stay focused on the right areas as you create your marketing calendar. By staying organized, you can easily focus on the most important areas of your business. This will help you stay calm and focused as you try to manage your marketing efforts.
Focus on lead-generation campaigns and outreach efforts. You can also consider adding customer loyalty efforts such as referral programs. The following steps will help you determine what should go into and how to build your marketing calendar.
1. Choose Your Calendar Type.
There's no one stopping you from using a physical calendar and a magic marker. Still, most companies use a digital calendar such as Google Calendar, Google Sheets, or marketing calendar-specific apps.
A digital calendar can also provide your entire workforce with access to the calendar at a moment's notice
2. What Are Your Goals?
What do you want to accomplish with your marketing efforts over the next year? Answering that question will help you determine what sort of things should go into your calendar.
Common goals business set are:
Increasing sales
Driving more website traffic
Increasing newsletter signups
Better holiday event turnouts
Etc.
Your goals will inform the next step in the process.
3. What Kind Of Marketing Will You Do?
There are a number of marketing strategies available to use, but the most common are:
Pay-per-click (PPC) advertising, like Google and Facebook ads, is great for increasing exposure and getting a quick pump to website traffic. If you need your special, brand, or event in front of as many eyes as possible right now, PPC ads are the way to go.
Email marketing, such as Eblasts and monthly newsletters, is a great way to market to your existing customers. Use this medium for marketing your specials, events, holiday celebrations, property upgrades, and more.
Social media marketing is another great way to communicate to existing customers, but the ability to boost a post effectively turns it into an ad that can reach a much higher audience.
Content marketing, like a company blog, is a great long-term strategy to get your customers to visit your website frequently. But more importantly, it can help boost your SEO and increase your site's organic search traffic over time.
4. Who Are You Marketing To?
Does your property mostly market to families on vacation, RVers over the age of 55, remote workers, long-term guests, snowbirds who travel south for the winter, or a combination of all of them? For some properties, the target customer varies depending on the season. It's important to decide when that switch happens within the year so you can mark those strategy and message changes in your calendar.
5. What Is Your Peak Season?
Knowing when the sales will happen is pretty straight forward if your business is open seasonally. For example, a ski resort will definitely make most of its money in the winter.
Outdoor hospitality and other businesses open all year can have a more "peaks and valleys" look to the sales volume. The important thing here is to discover what parts of the year you see the most business and capitalize on those parts of the year to drive even more traffic. Or you can use the data to develop a strategy that might help drive more sales during historically slower times.
Let's use an RV resort in Arizona that is fairly close to the Grand Canyon. Their summer calendar may focus on marketing efforts that attract transient families on vacation. But, knowing that snowbirds will be heading in that direction starting in the fall, they may switch their marketing efforts to target monthly guests over 55.
6. Are There Any Hard Coded Dates?
Holidays like the Fourth of July happen every year and will, of course, be included in your marketing calendar. But important dates could be anything from property upgrade completions to special events at your property or in your area, etc.
A marketing calendar should include the following:
What those dates/events are
When you will start marketing for them
When you stop marketing efforts for them
7. Build An Overview
Your Marketing Calendar will no doubt include data about what specific strategies you want to use and can be as detailed or sparse as you wish. An important aspect is a way to see when each event or strategy will run throughout the year.
Below is an example of a marketing calendar overview we can help create at Big Rig Media.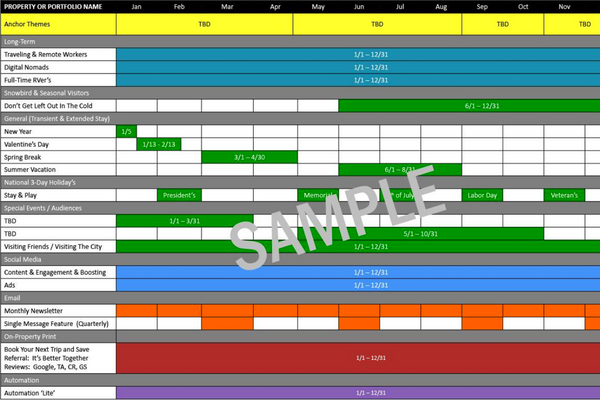 Additional Tips For Building A Successful Marketing Calendar
Keep your calendar simple: Your marketing calendar does not have to be overly detailed. It can be as simple as a list of key activities. The important thing is to make it visually appealing and easy to read.
Make the marketing calendar collaborative: Integrate your marketing calendar with your team calendar. This way, everyone can see and understand the plan and other marketing activities.
Set realistic expectations: When creating your marketing calendar, set realistic expectations for yourself and your team. It is important to set realistic goals so that you know when you have achieved success.
Stay consistent: Your marketing calendar should be consistent throughout the year. Ensure you are consistent with your activities, digital channels, and customer segments.
Let Big Rig Help You Set Up An Awesome Marketing Calendar
Big Rig has over 20 years of experience helping our clients develop a killer marketing strategy that's tailored to their business. We can help you develop a marketing calendar that will allow you to reach your business goals in 2023 and beyond.
Or Call Big Rig Today! (866) 524-4744