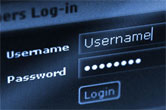 This cool, free (with a premium option) app (www.dashlane.com) keeps track of all of your passwords, automatically logs you in on every website and boasts that you will never lose a password again.
It helps you create "super strong passwords" when needed. There is also an autofill where you can securely store your emails, addresses, phone numbers, payment types, IDs, expiration dates, job titles, etc.
This digital wallet also saves all of your transaction receipts.