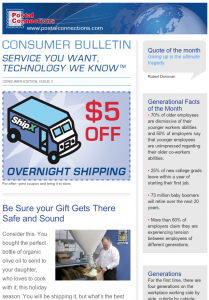 Postal Connections Newsletter
Big Rig Media does much more than websites. Using their talented staff designers, they do stunning off-line print work and well packaged, well received newsletters. An example of the latter is the newsletter they put together each month for the customers of the Postal Connections and iSold It franchisors. 
Big Rig Media's graphic artists, layout the fast-read, interesting, relevant (and not too salesy) copy in an eye-catching, original template. The finished piece incorporates the company logo, branding and customer offers (if any) in a digitally attractive way.